The Blackout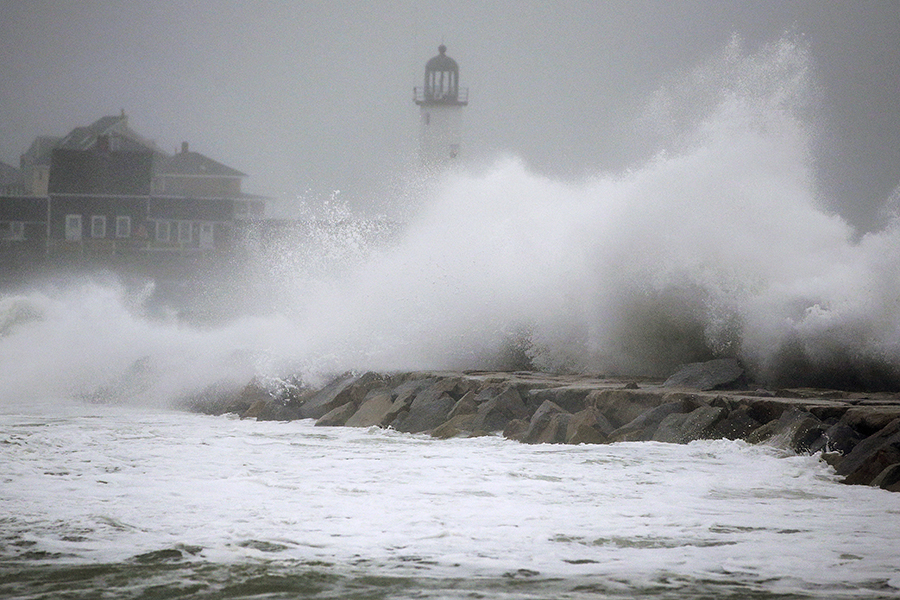 Growing up in Massachusetts, inclement weather is just a part of life. The winters are freezing, the summers are humid, and in between we have hurricanes. This past weekend we experienced a beast of a Nor'easter that produced damaging winds and flooding, knocked out power to thousands of homes, uprooted trees and trampolines, and sent branches flying into anything in their path.
Lucky for us we did not experience any damage to our home, just lost electricity for a few days. Nothing brings you back to basics like lack of light and water. Taking something so average as flicking a switch or flushing the toilet for granted is natural to those of us in developed countries. To me this blackout served a greater purpose and put some of my seemingly huge problems into perspective. The lesson hit home to me all the more because of the fact that for lent I have been giving up what I call my "luxurious baths" to acknowledge how lucky I am to have access to water at the turn of a knob. For many others around the globe obtaining clean water is a daily struggle, and often one of life and death.
Now onto my seemingly huge problem. If you are not interested in Instagram you might want to stop reading here! There is a lot of information forthcoming!
The Shadowban
Anyone who is a blogger knows the value of social media. It is a great way to get your blog or brand out there and take advantage of free advertising, find readers and other writers in your niche, and give people a better idea of the person behind your posts. Everyone has a favorite and Instagram is mine! I used it often to engage in the poetry community there and am comfortable using it as a result. When I switched my focus to blogging it felt like a natural place to start.
I was just beginning to build good relationships and garner humble numbers that I was happy with when I saw a drastic drop in engagement. I noticed that my posts, which would typically get about 50-80 likes were getting more like 10-15. Where before the hearts would pop up immediately after I posted, it was taking much longer to receive that first like. The likes I did get were only coming from the people who were following me already and even they were sparse. Something wasn't right.
I am no social media expert or major influencer and hadn't truly tried to build any sort of following before so I researched reasons why this might be happening and came upon the term "Shadowban". Well, my account had all of the telltale symptoms and it seems that my page has succumbed to the open secret that is the dreaded Instagram Shadowban. Never heard of it? Here's everything I have found out about it during my extensive research.
What is it?
A shadowban is Instagram's way to crack down on people going against their community guidelines by spamming, using 3rd party apps to like and follow/unfollow other accounts, abusing hashtags, and buying followers. This can also happen if you post offensive content or get reported by other users. Your posts don't show up under the used hashtags to people who do not already follow you which seriously limits your reach and growth potential. Even the people who already follow you will be less likely to see your posts as they are pushed further down their news-feeds. You receive no official notice from Instagram or explanation as to why this has occurred. They have not acknowledged a shadowban directly, instead claiming a glitch in hashtags and some believe it is a myth and doesn't even exist!
How to avoid it
Don't use the maximum number of hashtags allowed (30). Make sure the hashtags you are using aren't "broken". If they are then the page will only show top posts, not most recent show an error message, or say that there are no posts to show. Don't use the same hashtags over and over again, try to switch them up. Don't copy/pate hashtags into your post. Avoid putting hashtags in the comments.
Did you know Instagram has limits for certain actions? If you exceed them the app may think that you are a bot. It is suggested not to like more than 150 photos an hour and not to follow or unfollow more than 60 accounts in an hour (some recommend these as daily limits). Don't use 3rd party applications for growth or buy followers, if you are guilty of this stop and revoke access now! Leave meaningful comments, not just one word or emojis. Just engage in a genuine way and you should be okay (though I do and wasn't that lucky).
Shadowban check website
there is a website that claims to be able to tell you if your account or certain photos have been shadowbanned or not but the general consensus is that it isn't reliable. It did not work for me and told me I was not banned even though I clearly am. I won't leave the link as I don't trust the site.
How to really check
Use one of your other accounts or ask some friends who do not follow the account in question to check if your recent photo is showing up under the hashtags you used. If they are not you might be shadowbanned.
How to fix it
My issues seemed to only resolve with time (the largely reported 14 day time frame) so I am not 100% sure if any of these things actually worked but I think they are worth a try! Some claim that there is no way to fix it and you just have to wait it out. Users have reported the ban lasting anywhere from 24 hours to 3 weeks or more. The most common time frame I have read is around 2 weeks or 14 days. Some give up and start new accounts.
If you use any questionable 3rd party applications, log into Instagram on a desktop computer, and revoke access (you can find the step by step process here.) Another suggestion is to delete broken or banned hashtags or just remove all hashtags from your recent posts. Next, report the problem to Instagram (step by step process here.), when you report don't say you are shadowbanned, rather that your hashtags are not working and assure them you are a real person. Switching from a business account to a personal one may also help as many users reported the ban starting not long after enabling business tools.
After that it is suggested that you take some time off of Instagram. That means no posting for 2-4 days. Some people go so far as to suspend their accounts and/or delete the app from their phones altogether and reinstall with an updated version when they are ready to test it. This apparently gives time for the algorithm to 'reset'. Once your hiatus is over interact and post like a normal user. Avoid any spam like activities and follow the rules.
This just may be the new normal
Some believe that this is just the direction Instagram is going. That they have left a lot of money on the table in the past and are trying to take it back by making people pay for sponsored posts to reach their target audiences, much like Facebook. Facebook owns Instagram so it makes sense that they might go in this direction and become a more lucrative and monetized platform.
Why I think it happened to me
When I started to take my blogging and freelance aspirations more seriously, just a few months ago now, I looked into how to improve my Instagram account. I invested in a camera for better photos, researched relevant hashtags, and prepped my posts to be engaging and of high quality. As you can tell I put a lot of thought and work into my posts, often writing them out in my phone's notepad including hashtags. I used as many tags as are allowed (including an original hashtag I created and used every time) and copied and pasted them into my posts. I noticed others on the platform placing their hashtags into the comment section of their posts instead of the body under the photo and innocently thought, "Gee, that looks nice!" and I tried it for myself.
I think that is what triggered the ban. I suppose Instagram thought it looked "spammy". It is frustrating to me because I am truly trying to grow a following organically. I have never considered using growth applications or buying followers. I never had a business account and am not trying to push a product, just wanted to let people know if there was something new on my blog! I would rather have 100 people that actually are interested in my content and writing than 1,000 fake accounts following me. Sadly I never had that many to begin with. I only ever had a little over 650 followers at most and since I can't be found by anyone not following me in the hashtags I am sure that little number will dwindle until the issue is resolved. I know there are other accounts that have liked and follow/unfollowed me clearly using bots and they have thousands and thousands of followers so it is pretty annoying to feel targeted when my account is more modest .
Some Perspective
It can feel devastating when all of the hard work you put into your Instagram is threatened. Many make money off of their profiles and it is an essential part of their businesses and livelihoods. The truth is that you don't own your Instagram and there is no telling if it will one day be as passé as Vine. The algorithms change often and they can delete or suspend your account at any moment. Use it as the tool it should be and not the end all be all of your craft or brand. There is more to life than social media!
Do you have any experience with the shadowban? Did I miss any vital information or solutions that you can think of? Comment below and let me know!
❤ Cait